Cutlery Sleeves are the newest cost and time saving innovation for Restaurants, Hotels and Catering Businesses?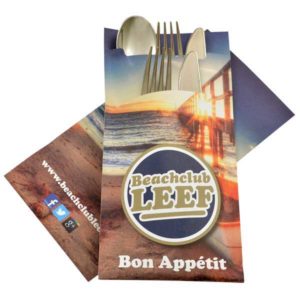 If you are in the food business you are always looking for ways to save money and help your employees be more efficient.
Cutlery Sleeves also referred to as cutlery pouches have produced an innovative, time efficient and hygienic method of presenting your guests with cutlery and a high quality napkin combined with a new and brilliant way to promote your restaurant, bar, hotel or catering business and help customers and guests remember you.
Create a Cutlery Sleeve with your business logo and an upscale design
Impress your diners with our chic and elegant Stock designs, or customize your Cutlery Sleeve by choosing the "Design Your Own" option and create an upscale cutlery presentation combined with a powerful branding opportunity.
Have your full color printed promotional message designed by our professional and talented graphic artists, who can create a concept that distinctly reflects your brand.
Check out some of the great marketing ideas that you can use to get the most out your custom cutlery pouches and sleeves!
Not only does it look great but it also includes your menu. this is a great take home sleeve that keeps your menu in front of your customers after they have left your restaurant.
Our graphic artists and you will work as a team to help you develop a Menu Cutlery Sleeve like this one that becomes an eye-catching accessory for your tabletop.
If you are in the catering business it serves as the perfect business card when satisfied guests need a caterer for their next party of event!
The enhanced tabletop design brings a stylish, upscale feel to your venue. Napkin Sleeves' innovative premium paper napkin band is an elegant yet functional cutlery holder and is printed with a welcoming "Bon Appetit" phrase or let us create a custom design with your logo.
These elegant elegant, high quality airlaid napkins, allows your employees to simply slip the cutlery into the folded pocket, and create a polished, modern presentation. Your Staff can set tables quickly and neatly saving them time and getting tables turned faster and more efficiently..
As more and more restaurants, hotels, bars and catering businesses are looking for cost efficient and cool ideas to present their stuff to customers and guests our cutlery sleeves and pouches will continue to grow in popularity!
Here are just a few more great ways to present your guest with something different and elegant!
Wedding Cutlery Sleeves – click to see sample Wedding cutlery sleeve ideas
Birthday Party Cutlery pouches – Click to see some cool birthday party ideas
Design your own custom cutlery sleeves and pouches at CutlerySleeves.com
If you want to learn more about how cutlery sleeves and pouches can help your business save time and money and still add a elegant look to every table setting go to CutlerySleeves.com where you can find generic in stock products or use our design your own interface to create a custom cutlery sleeve for your business.